Along with the increasing popularity of market cryptocurrency, the market capitalization is also increasing every year. This proves that more and more people are interested in investing or trading in the market cryptocurrency. High fluctuations allowing for multiples of profit in just a few months to make market cryptocurrency increasingly in the interest of investors and traders. And to get consistent profit and to reduce investment and trading risk, traders need a platform to track and analyze market technically and fundamentally from each cryptocurrency. And now the most popular and widely used platform by traders is trading view and coin market cap. These two platforms provide some benefits to the trader in determining the buying and selling of crypto and also provide all the information about each crypto. In trading view, all traders also allow creating content such as technical analysis in charting and publish it to other traders.
But when traders create content like technical analysis charting, they do not get rewards from content that has been created and published. And now there is a new platform that will change this all, which traders will be rewarded when publishing content, the project is currently in the ICO to support all the goals of this project.
What is BitScreener?
BitScreener is a crypto tracker platform that already has product and also available mobile app that we can download in Play Store and in App Store. This crypto tracker platform was launched last year and is already in use by more than 1.2 million traders and investors worldwide. In addition can be used to track and analyze more than 2000 different cryptocurrency, this project also has a goal for their platform to provide a stock market of more than 100,000 different shares from around the world. Market cryptocurrency and stocks in one platform so that traders and investors are easy in analyzing these two markets. And now the platform aims to improve its products and services using Blockchain technology.

How does BitScreener work?
BitScreener already has an MVP / Minimum Viable Product that can be viewed here https://bitscreener.com, on this platform has been registered more than 2000 cryptocurrency and we can analyze and track the coin and tokens either technically or fundamentally. Unlike other crypto tracker platforms, BitScrener has several advantages as well as providing rewards for traders who publish content within the platform. The BitScenner platform can be said to be a blend of trading and steemit trading platforms, which all benefactors and products can use on a single platform.
Like any trading view platform, any trader or investor who wants to get a platform product or service gets the option of having a free account or a premium account, and of course, the premium account has some additional services. The membership fee for premium member is; $ 4.99 per month or $ 41.99 per year, and this membership fee can be paid with BitScreener tokens (BITX), as well as BitScreener's steemit platform will reward members who want to publish content on the platform.
We can use the BitScreener platform to set the cryptocurrency portfolio and we can track portfolio profits and losses with real time charts. BitScreener also displays information from various exchange cryptocurrency markets, and this makes it easier to find the best places to buy and sell different coins. BitScreener also has a warning system where we can receive warnings based on coin prices, changes in market capitalization, trading volume, and performance of each crypto. And if we want to accept the sound alerts when the price of crypto has reached our target buy or sell, then we can set the BitScreener to sound the alerts. And we can also track and analyze each cryptocurrency based on the size of the market cap that belongs to it, this makes it easy for us to find crypto that still has a cheap price but has great potential.
What features and benefits are provided by BitScreener?
The BitScreener platform benefits all traders and investors who want to invest in market cryptocurrency and stock by providing a platform that can be used to track and analyze both markets in a technical and fundamental way. The unique product combination between trading view and steemit makes the BitScreener platform a complete tracker platform with more benefits. Users are rewarded with BITX tokens of content that it publishes like steemit and also available over 2000 crypto and 100,000 stocks on platforms that can be tracked and analyzed. There is also a latest news and press release about cryptocurrency. All these services are in one platform so as to provide convenience and efficiency in analyzing and determining the assets to be bought or sold.
Advantages of The Platform
In the platform, one will be able to track more than 5500 cryptocurrencies. And there will be data capture from more than 100 livestock markets. And one can use numerous filtering tools. The platform will provide real-time price and volume warnings on smartphones. Also, there will be technical analysis and enhanced graphics support on the platform.
As we all know, there are many cryptocurrencies in this market and users have divided their investments in different cryptocurrencies to minimize the commercial risk. Cryptocurrencies are also traded on different stock exchanges and people are having trouble tracking cryptocurrency in their portfolio. This is where BitScreener comes in handy. You can use BitScreener to manage your all cryptocurrency investment portfolio. By seeing instant changes in the portfolio, you can track your profits and losses with real-time graphs.
BitScreener also displays information from various cryptocurrency markets and gives you great information about where to sell your currency. BitScreener now supports more than 2000 cryptocurrencies. Thanks to BitScreener you will be able to receive an audible alert when you reach the targets you have set previously. This will be very handy for you because it will give you the opportunity to warn you and take action when prices arrive at what you think is buying.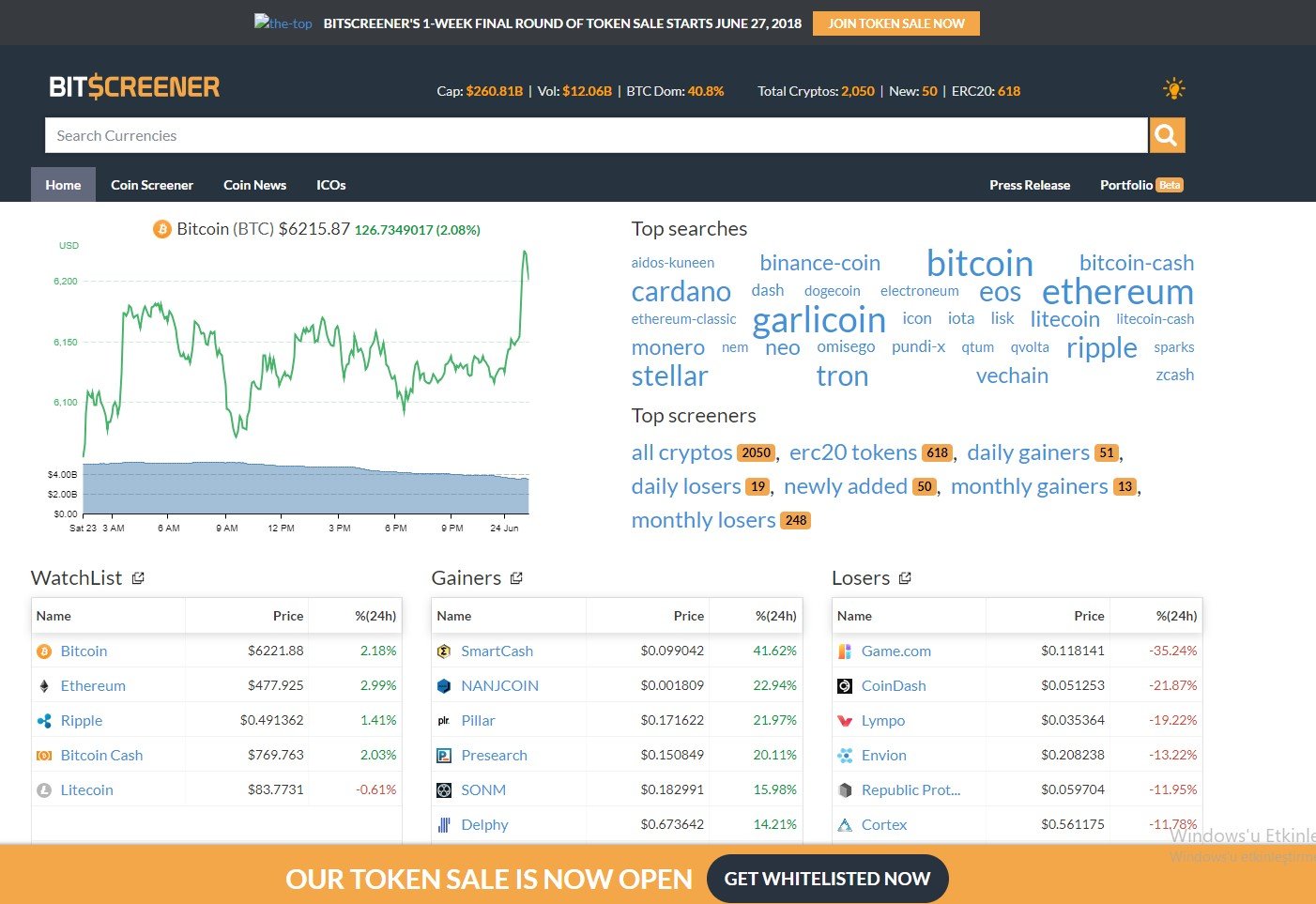 ICO and Token Information
BitScreener has created its own token called BITX. Users will be rewarded with BITX tokens when they add something to the BitScreener ecosystem. While other cryptocurrencies are being mined, the BitScreen token can be earned by providing valuable content. Compared to traditional rewards, blockchain-based payouts are faster, requiring lower transaction fees. In addition, all financial transfers are 100% transparent.
The BITX token is also spent on the BitScreener platform, for example, users can use the token to pay for premium services. According to the creators, 20% of total token supply (90, 000, 000 BITX) will be phased open with a 15-year process.
Token name: BITX
Platform: Ethereum ERC20
Token Price: 1 ETH = 7154 BITX
Minimum investment amount: 0.2 ETH
Soft cap: 1,000 ETH
Hard cap: 15,000 ETH
Who is the team and founder of BitScreener?
BitScreener is based in Singapore, the team members of this project are David Nguyen, Hai Pham, Quang Hoang, and Anh Nguyen and others. BitScreener is a platform launched in early 2017, and currently aims to improve its services using Blockchain technology and integrate digital tokens to support its ecosystem.
Conclusion
The BitScreener platform is a platform that has both a desktop version and a mobile application running online. The most significant thing that sets BitScreener apart from its competitors is the rewarding of content creators. ICO sales have already reached huge quantities. For this reason, this project is promising for investors looking for fast and complete access to financial information for reasonable fees.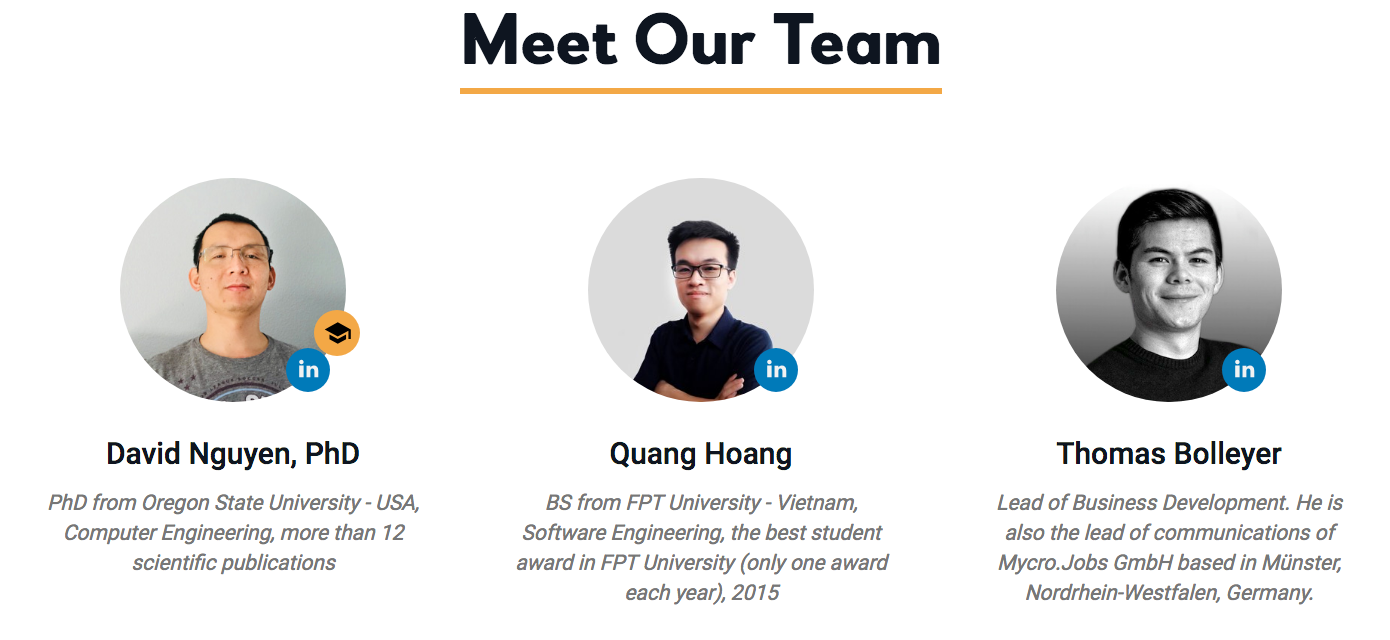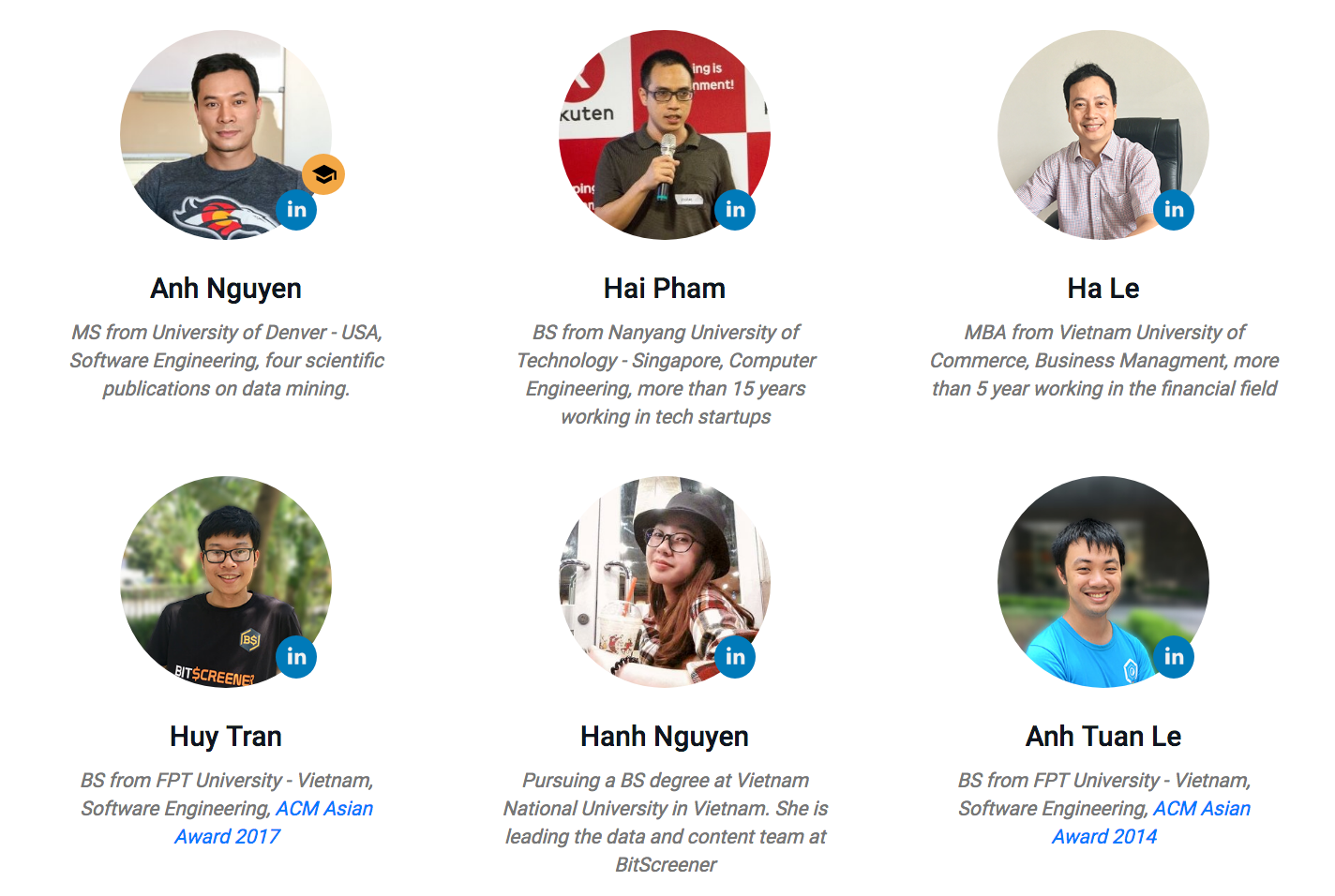 Visit the links below to learn more about the project;
Website:
http://www.bitscreener.com/
Whitepaper:
http://bit.ly/bitscreener_whitepaper
Bitcointalk ANN:
https://bitcointalk.org/index.php?topic=3354336.0
Facebook:
https://www.facebook.com/bitscreenercom
Twitter: h
ttps://twitter.com/BitScreener
Telegram:
https://t.me/bitscreener
Bitcointalk profile:
https://bitcointalk.org/index.php?action=profile;u=1041405