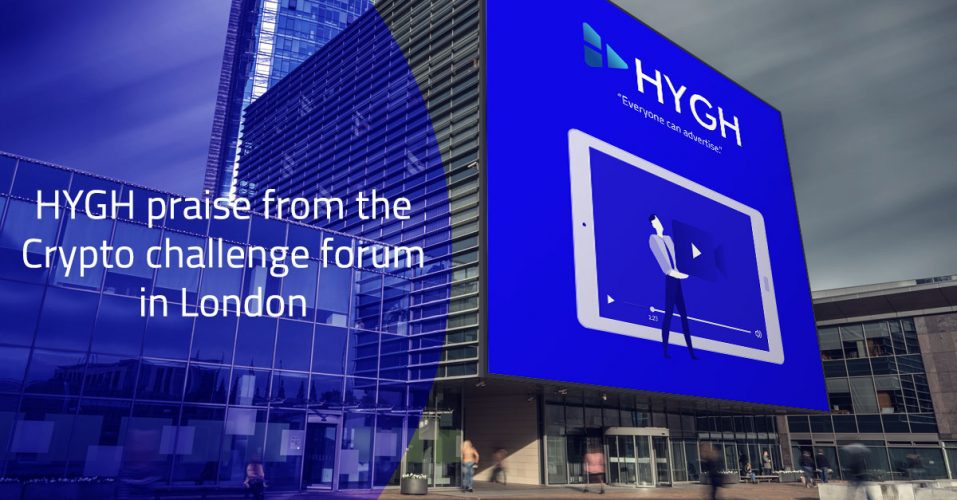 The team behind the future of Adtech have received HYGH praise from the Crypto Challenge Forum's judging panel at this month's blockchain summit in London.
HYGH has been awarded the accolade of The 2018 ICO OF THE YEAR at this year's summit in recognition of its innovative approach to the disruption of the $600bn advertising industry
The summit took place from October 28th– 30th, with the agenda to explore the ways in which Blockchain technology will transform the world's economy and finance. While there is no doubt that the blockchain has the potential to catalyze seismic shifts across verticals ranging from Real Estate to Risk Management, the implications and impact for traditional value chains and consumers are still hotly debated.
HYGH's award-winning approach is both unique and inclusive.
With a mission to enable brands to connect with their future customers TODAY, HYGH is developing a peer-to-peer advertising network and content management system that augments the flexibility, efficiency and profitability of the entire ecosystem of public displays providers, advertising brokers, and brands. An innovative framework turns any display into bookable advertising space and enables anyone to book it in real-time.
The innovative forces of Digital and Mobility are shaping advertising expenditure as brands look to engage with the evolution of today's consumer into the Consumer of Tomorrow. While traditional and digital advertising formats look to address user experience in varying ways, large brands are still faced with a series of channel limitations. For smaller brands, the investment and resource requirements to compete with larger competitors creates an additional obstacle that is often impossible to overcome.
Through a proprietary advertising booking engine (HYGH Command and Control Centre), which can be accessed through a web or app-based user interface (HYGH Player), the HYGH platform will first drive a paradigm shift to the Digital out of home (DOOH) value chain and then change the face of advertising as a whole.
HYGH's innovative platform resolves existing challenges for brands, media buyers, planners, aggregators and display owners. Barriers ranging from long campaign lead times, excessive costs and transparency, through to management of unused capacity, relationship management and measurement are all removed through the introduction of the HYGH framework. Through removing barriers for all existing stakeholders in the DOOH value chain, HYGH not only redefines the DOOH category but allows advertisers and consumers to engage in a more personalized, interactive, contextual and authentic way.
However, it is not just industry stakeholders and consumers that benefit as Vincent Müller, co-founder and CEO of HYGH explained:
"Our goal of democratizing the advertising industry is something that we really mean. For us, democratization is about making participation in the HYGH ecosystem both accessible and beneficial for absolutely everyone. For this reason, we took the decision to allow investors to participate in our infrastructure through a highly attractive security token offering. In addition to allowing everyone to participate in the long-term success of HYGH, we will reward token holders with a quarterly dividend of 9% of all revenue that is generated through the HYGH platform."
HYGH Benefits
Cost Efficiency
Advertisers have the possibility to choose their displays and book the precise time slots for their advertisements. This particular focused on will help the advertisers reduce the common fee associated with the advertisement and increase the conversion rate.
Time Saving
Display carriers are no longer required to undergo time-consuming procedures due to the fact to begin producing passive earnings they truly down load the HYGH application and set their preferences. Advertisers, on the other hand, can use the Campaign Creators to launch their adverts within minutes.
Global Scaling
The platform's global disbursed network implements a lean enterprise mannequin together with a modular platform structure that permits world scaling as well as each person to take part on the platform as either an advertiser or a display owner.
Transparency
All the events and transactions that occur within the HYGH ecosystem are recorded in the distributed blockchain network. This generates trust, transparency and datasets, which advertisers can build upon as the advertisers, will have a potential of verifying how long, when and where their advertisements had been played.
HYGH ICO Details
Token: HYGH
Token Supply: 1,000,000,000
Token provide in the course of crowdsale (or STO): 600,000,000
Sale date: nineteenth November onwards
Token rate at some point of STO: 0.03$-0.05$
Hard Cap: $23,875,000
Benefit from your money, and invest in HYGH because this is an opportunity for you, HYGH already has a mature plan to become popular so immediately join the HYGH community ( https://t.me/HyghAG ) and invest now !!