A deep look at the continuous technological innovations we open our eyes to the emergence of different kind of means of exchange used for transactions. Most especially, recently the use of credit cards and cryptocurrencies are gradually replacing fiat money. Both are a digital form of payment created on a digital ecosystem. Crypto, as a matter of fact, is created through the use of supercomputers in a process called mining by professionals which can be transferred from one wallet to another after its validation without the need of third-party intermediary for trust validation. Crypto coins today are crypto exchanges where we can convert to other crypto coins or fiat currencies.
At the moment, there are a huge number of crypto — currency exchanges in the world that offer favorable trading conditions but have one significant drawback-a high Commission fee. But among this huge number of exchanges, there is a very worthy candidate.
Today's review is devoted to a very interesting project, which in my opinion will be able to radically change the situation and will increase the funds of its customers, instead of charging a high Commission. The name of this site is Catex.
Catex Platform
Catex (Cat exchange) is a mining transaction exchange that allows investors and traders to mine cryptocurrency while trading the coins listed on the exchange platform. This means that whenever investors and traders buys and sell any coin on the exchange, the paid transaction fee is being returned back to the investor or traders account in the form of the exchange token (Catt token) that is being generated with extra 5%.
A distinct feature of this exchange platform is that it shares up to 90% of its daily dividend among its users.
Features of Cat Exchange Platform?
Multiple telegram channels and groups in several languages to listen to community demands
Catt token (native Erc-20 based token of the platform) burn event which will reduce greatly the total supply of the exchange token in conjunction with token lock programs thereby getting rid of reduction in token value
An excellent user interface which allows even newest cryptocurrency user trade conveniently without problems
Holders of BAE token gets up to 20% additional bonus during transactions which are dependent on the amount of BAE tokens held
Easy coin listing procedures
Coin voting feature which allows users to vote for their coin of choice to be listed
Present of accurate coin volumes unlike other exchanges that adulterate coin volumes to mislead traders
Top class security measures to prevent against fund loss and cyber attacks and
Availability of essential trading pairs to ease trading for users.
The platform of Catex is friendly to traders and it was created in August 2018 with a goal of eradicating all the challenges being experienced by Crypto traders. Catex is one of the best exchange presently in the industry.
Most of the current crypto exchanges have almost identical infrastructures, with almost same features which gives you opportunity to trade different crypto coins but Catex is quite different from all in terms of usage and way of operation. If will take a dilligent look at Catex, everyone will surely admit that it us quite different from others.
Catex exchange is highly transparent and they don't manipulate trading volume like some usually do. Some exchange do have fake volume, some do pump and dump coins at the expense of amateur traders. All these illicit act can't be found in Catex, the exchange listen to investors and traders and they are always there to help out.
Catex is made with a conversion ratio that give back commissions inform of trading fees back to traders with a certain percentage in form of Catt token. With this, 80% of the commission will be shared to those that hold Catt token by their rate of transactions or by the rate of Catt token in their custody. 7 - 15 - 30 and 60 - day period Catt token holding or lock to the Catex income from the revenue earned from the share and Catt coin bonus is given.
With the increase in commissions charged by other platforms during transactions, users are not allowed or encouraged to do more so as to limit their scope in the system. However, Catex plans to make things easy by making the most of the commissions generated from user transactions given back to them as incentives. This means that the platform does not aim to explain the user but asks the user to explore and exploit all Catex activities and systems. Bonuses will be given in CATT tokens to as many as token holders and this will be done so often.
In the catex network, users take part in decision making and that can be done through broadcasting their opinions and what they think can be done to achieve progress. Catex has all secondary tasks managed by users while it should handle other key tasks in the ecosystem.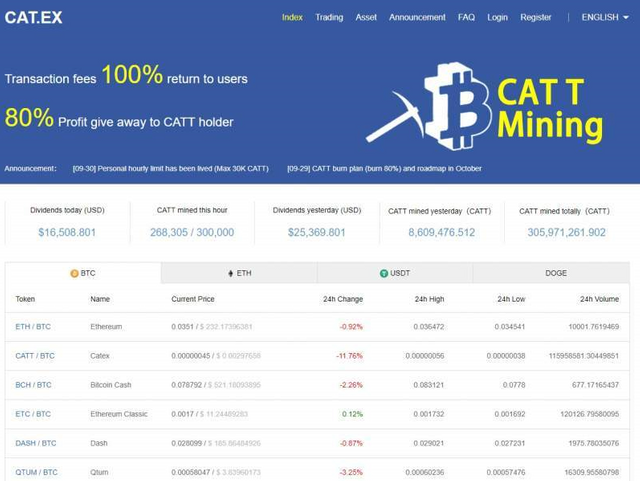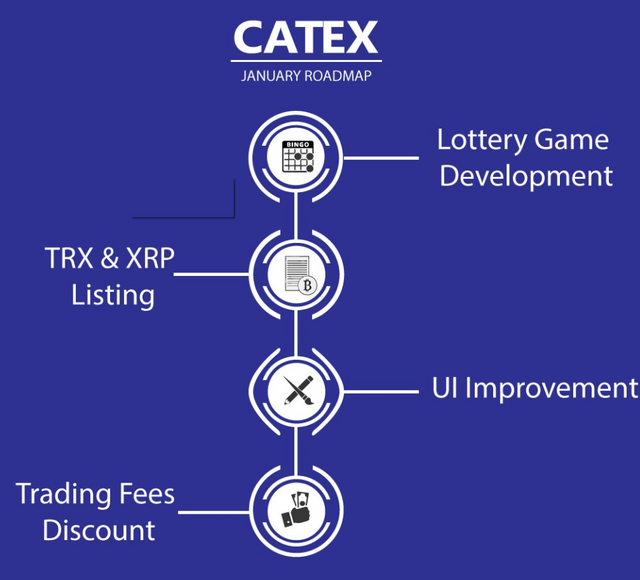 At the end of my review, I would like to add that the Catex exchange really deserves attention from both investors and traders, as it has a multilingual interface and instructions in different languages. As well as the ability to trade using smartphones on the IOS platform and on the Android platform.
I believe that this project has all the chances of success in the crypto community and is able to bring profit to its investors in the near future. Everyone who found this project interesting, I recommend to study it in more detail, for this I have prepared a list of all the most important resources where you can find the answer to any question. Good luck!
Official resources of the project Cat.Ex: