Technology has changed the world in many ways. The creation of the internet has brought a revolution and empowered the life of humans. Today with the advent of the internet we not only can communicate but also develop our business into digitally. The advertisement is a way to accelerate the business. It helps to directly connect with consumers. That's why many companies and businesses mainly focus on advertising their brands.
The traditional advertising sector has many challenges which need to be addressed quickly, such as:
• limited audience reach
• out focused target
• lack of measurability
• inflexible campaigns
• limited interactivity
• growth hindrance due to regulations
• transparency issues
• fraud
It is estimated that the advertising industry values more than $200 billion by 2022. But still the advertising industry is far from the perfect. It needs a perfect systematic approach and innovative solution to disrupt the market.
PROJECT OBJECTIVE
In order to achieve technological disruption in the advertisement sector a team of professionals created a project called HYGH. HYGH is a blockchain technology powered peer to peer advertising and content management network. It helps to revolutionize the digital advertising network by connecting brands with consumers.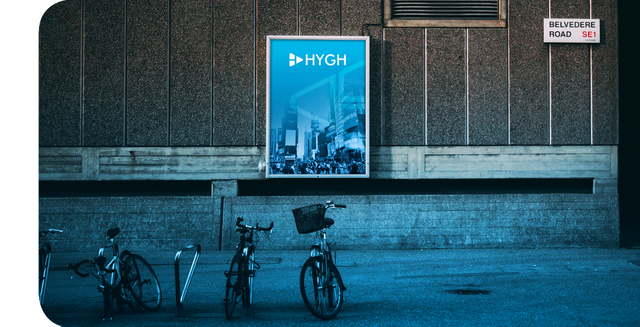 PRINCIPLE OF OPERATION
HYGH wants to democratize the advertising network thorough blockchain technology. It helps to connect display owners with brands through HYGH app. This motivates everyone to become an advertisers irrespective of budget. It will disrupt the advertising sector in similar way, Airbnb disrupted hotel industry. Today consumers are demanding some values in the advertising, which are:
• Contextual
• Authentic
• Dynamic
• Interactive
• Personalized
HYGH will make a paradigm shift in digital out of home (DOOH) chain through advertising booking engine which can be accessed through web and app-based HYGH player. The HYGH player allows playing videos, images and web-based contents. Thus people can advertise through tablets and smart TVs etc.
In order to earn money from their displays, owners only need to register their displays and need to install HYGH player. Through a secured pairing code, the client software powers the display by showing ads.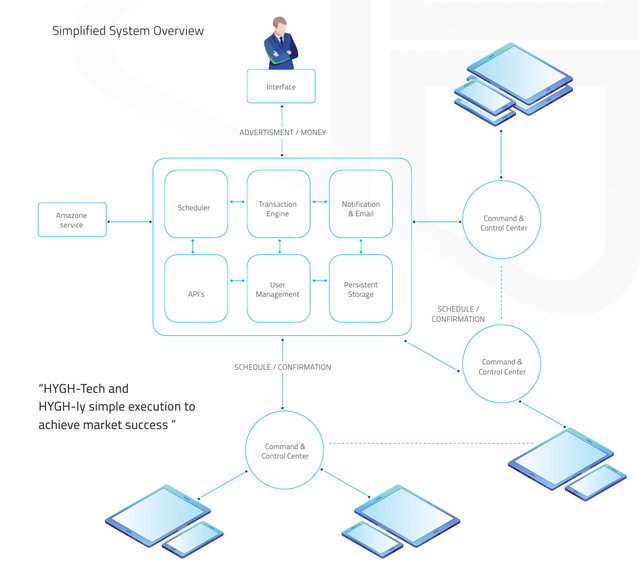 ADVANTAGES OF HYGH ACROSS DIFFERENT VALUE CHAINS
• no special skills and campaign experience required
• manage their spendings
• control and launch targeted campaigns on screens
• fraud checks
• integration of DOOH increases transparency and campaign effectiveness
• manage inventory portfolios
• users can able to advertise on their smart TV, tablet & public space and start earning
• HYGH distributes 83.5% ad spendings, which helps to maximize the profits
• scaling globally
• HYGH platform increases the transparency, security and trust with its users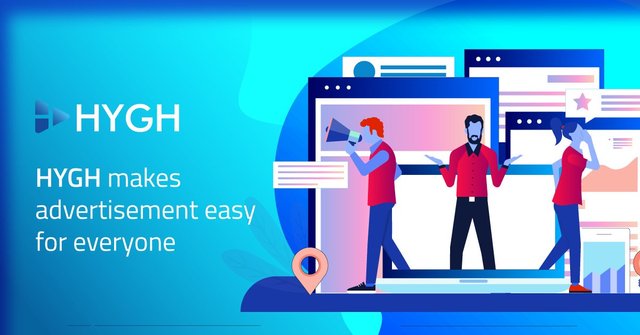 • Token ticker: HYGH
• Category: Security token
• Token price: $0.05
• Total supply: 1 Billion
• Hardcap: $23,85,000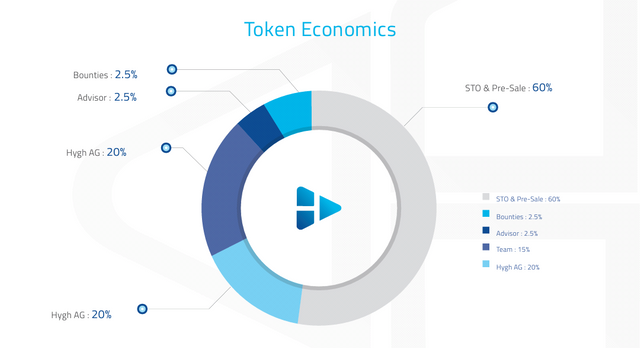 HYGH platform will revolutionize the way we advertise today. It is a Berlin based startup wants to make online advertising profitable via DOOH by democratizing it. With the power of internet the HYGH platform will turn any digital display into bookable advertising space, open for advertisers around the world. HYGH will empower public to earn a profitable passive income which enables them to buy and mount screens just to host ads. It is worth noting that investors receive 9% of the total revenue of the system. This project needs much public attention and I wish all the best for this great project.